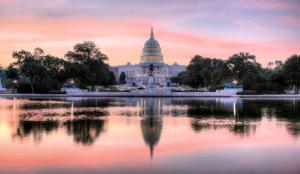 As the term once in a lifetime implies almost anyone can get a once in a lifetime shot once. The question is how to get one again and again and again.

There is a lot more to producing a stunning landscape image than having your camera and being in the right place at the right time then pressing a button. That said being in the right place at the right time is a critical aspect of the big picture. (Big picture, get it?) The question is how to be in the right place at the right time?

I suppose you could bring your camera with you everywhere you go and when you observe a scene develop just stop what you are doing and shoot away. To an extent I do just that but the reality is that bringing a large expensive camera body, a couple lenses and a tripod with you everywhere is just not practical. Every so often I have my equipment with me and stumble upon the perfect lighting along with a perfect subject to shoot. The blind squirrel analogy comes to mind here. I was driving down an urban parkway in the rain when the clouds broke open and Mother Nature blessed me with an hour and a half of some of the most amazing lighting I have ever seen and I had a decent camera with me and the time to use it. This image is one of hundreds I shot in that 90 minutes. Sometimes it works out that way but the reality is bringing your kit with you when you are out running errands is just not always practical and leaving thousands of dollars worth of equipment in your car all the time is almost asking for it to be stolen.



If we can't reliably count on stumbling upon these scenes that means we have to do some planning. Broadly speaking there are two types of plans I make. There are places and scenes I am familiar with and then there are places I have never been before. In today's post we will explore the planning involved to get "The Shot" in an area you are familiar with.

Planning for places you are familiar with is easier for obvious reasons. When I go out for a shoot I am either looking for something that will compliment a perfect sky or a sky that will highlight a specific subject. I live in Northern Virginia and work in DC. There are scores of monuments and historical sites to shoot which is good but it is hard to get a shot that is unique and hasn't been seen before. If you are shooting strictly for yourself then shooting something the same way it has been shot thousands of times before is fine. If you are interested in possibly selling your work then you need to offer a unique and striking presentation that the buyer can't find by walking into any mall or gift shop in the local area. For instance I wanted an image of the US Capitol Building. If you run a Google search for a US Capitol Building image you get about 820,000 results. How do you come up with something unique? Getting a shot with something other than blue skies and puffy clouds for a background is one way and that is where the planning comes in. Because I live in the area I can scout where the more dramatic shots can be taken. I have the knowledge of where the sunrise will happen in relation to the prospective shooting sites. I know where I can park at different times and on different days. I know how long it will take me to get to my "spot" after I park. I know that during the summer sunrise happens as early as 5:40 AM and in the winter it is sometimes after 8:00. Because I work in a secure location with secure parking I am comfortable leaving my gear in my car when I am at work. Knowing all that I formulate a plan. Nine months out of the year sunrise happens during the heart of the rush hour. That means that driving through downtown on my way to work will add an hour to my commute and even if I see a dramatic sky developing I won't be able to find parking anywhere near the Capitol. Around the summer solstice sunrise happens while most people are still asleep or just getting up here. Since I have some control over the time I arrive at work I leave my house an hour before sunrise during the early summer. At that time of the morning traffic is light and I can be in downtown DC in 15 minutes. As I approach downtown I look at the sky and make a guestimation as to whether it will be a dramatic sunrise or not. If it is overcast or clear skies I just keep driving to work. If however there are scattered clouds I exit and head towards the Capitol. It is easy to find parking in downtown DC at 5:00 AM. (That is about the only time its easy.) I park my truck and hike on over to one of my pre-picked spots depending on where the clouds are in relation to the sunrise and the Dome. Then 9/10 times it is less than spectacular and I walk back to my truck and drive to work. Because I am local I just keep doing this until "it" happens. Oh you will know when "it" happens. The lighting is perfect. The sky is perfect. You are in position and you are ready and it all comes together. That is what makes the 30 times I got up at o-dark thirty and just kept driving and the 9 times I stopped for nothing worth it all.



I also have a plan in place just in case I sense a dramatic sunset or storm coming on but have nothing in particular to shoot. In my opinion what you really need to shoot a dramatic sky is an unobstructed view towards the horizon. Large fields, high rooftops and relatively large bodies of water come to mind but really anywhere with an unobstructed view will work. If you happen to live five minutes from a beach with an impressive lighthouse your options are many. But if you are like me and live inland it will take a little preplanning to be ready when it happens. Within five miles of my house I found a Pohick Bay. It isn't a tourist destination and isn't developed. What it offers is scenic nature shots and about 220 degrees of water views. There are approximately five miles of water views from a 110 degree azimuth to around a 330 degree azimuth. Since the sky's drama is not always over the point of the actual sunset this pre-planned area gives me access to long views in myriad directions to capture whatever drama the sky can present. In this image I saw the drama in the sky developing about dinner time and got that look in my eye. My wife has long since accepted that I miss my share fair of dinners so off I went to Pohick. To get this shot I waded chest high into the bay so that I could get the autumn foliage as well as the sunset and reflections but that is more of a composition discussion. While you may not live near Pohick Bay I am willing to bet that 90% of you have someplace nearby that you can shoot the drama in the sky when you see it developing if you have planned for it in advance.



In my next post I will discuss the planning I do for a site I have never been to nor seen before. While being in the right place at the right is an important part of getting that shot of a lifetime there is a lot more planning than luck involved if you plan to do it more than once.

JC